---
Some preppers love outdoor activities like camping and hiking because it allows them to spend more time in nature, especially if they live in the city. But preppers also know that to safely enjoy their time outdoors, they need to know important survival skills like navigation, firestarting, or shelter building.
If you frequently take part in outdoor activities, learning these essential skills will help you survive when disaster strikes in the wilderness. It's also best to learn outdoor skills before you go camping or hiking so you don't waste too much time trying to build a shelter or starting a fire while you're in unfamiliar territory.
Not sure where to start? You can learn by reading articles online or watching how-to videos. You can also consult other more experienced outdoor adventurers about what to expect, particularly if they have often traveled to your intended destination.
Here are 10 skills that will be useful for avid outdoor adventurers, especially if SHTF while you're out hiking or on an overnight camping trip. (h/t to ThePrepperJournal.com)
Navigation
When spending time outdoors, learn how to use a topographical map and a compass.
A physical paper map may seem too old-fashioned compared to modern options like Google maps on your phone or your car GPS, but your ability to use a map and compass might save your life when disaster strikes and you're lost without access to a reliable internet connection or your battery is totally drained.
When you're outdoors, knowing how to orient yourself and navigate is crucial to your safety and survival if SHTF.
Packing your outdoor gear properly
Before you leave, make sure you have all the items you will need. At the same time, you need to keep your bag light by only bringing only necessary items.
First, make a list of what you need. Next, lay everything out and group the items you want to take by weight: Light, medium and heavy).
All light items and things that need to stay dry, like your sleeping bag and food, should be packed at the bottom of your bag. Pack the food in sturdy containers so nothing spills or gets crushed with the added weight of your other gear.
Keep the heaviest items in the middle of your bag and close to your spine. All essential items that you need easy access to, like your map, compass, water bottle and raincoat should be placed at the very top of your bag or in the side pockets.
Divide items like your first aid kit, toiletries and devices, into color-coded bags for easy organization. Finally, make sure your backpack is properly fitted to help relieve the added weight and pressure on your body. (Related: Adaptability and preparedness: 8 Important survival lessons from Antarctica.)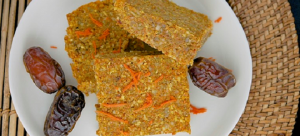 Eating the right snacks to keep yourself energized
While hiking to your campsite, you will need snacks that are easy to eat and will help keep up your energy levels. Bring food that fuels the body but is also easy to prepare.
Here are some ideas if you're not sure what to bring to your next camping trip:
Bagels or bread (ideal for shorter trips.)
Beef jerky
Canned tuna or other kinds of canned food
Coffee
Crackers
Dehydrated fruits and vegetables
Energy bars
Granola bars
Hot chocolate
Pancake mix
Rice
Seeds
Spices (garlic powder, salt, etc.)
Tea
Trail mix
Basic first aid
If you spend a lot of time outdoors camping, hiking, hunting, or fishing, get a Wilderness First Responder certification and sign up for a basic first aid course.
Aside from packing the right gear, these courses will teach you how the human body reacts to heat and cold. You'll also learn how to layer clothing properly to protect yourself in changing weather conditions.
While hypothermia and dehydration isn't something you usually worry about on a normal day, they can be fatal in the wild. Taking a formal training course will give you the knowledge and training you need so you can act quickly to help an injured friend.
Firestarting
A well-built fire is important because you need one to stay warm, cook and boil water.
Learn how to build a fire using different tools and different techniques that will work best in different environments. Bring along different tools for building fires like waterproof matches, lighters and dryer lint.
Building a shelter
Even if you're going on a well-planned camping trip, you might end up losing your gear when SHTF. If this happens, knowing how to find or build a shelter using what you find around you is crucial.
To survive in the wilderness, you need to know about two types of shelter. First is a shelter that will keep you warm in dry weather.
Another is a shelter that can keep you dry in wet conditions. If you can't find one, look for a beam and prop it between a couple of supports to create a triangular opening. Lean sturdy sticks against the support beam to form an enclosure
Add leaves or branches to the top of your shelter to add more protection from the rain. This type of shelter will keep you dry but you need to build it strategically in a place that isn't too windy so it won't collapse.
If you're facing snow or cold conditions, find a cave-like structure with proper ensure ventilation to prevent asphyxiation after you build a fire for warmth.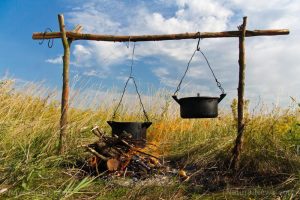 Filtering water
Staying hydrated is crucial to your survival when adventuring outdoors. But when you're traveling for several days, it can be hard to carry all the water you need to stay hydrated.
To keep your gear light, you need to know how to filter water from natural sources.
Here are several ways to filter water in an outdoor setting:
Boiling water to kill bad bacteria.
Using a high-quality water filter to remove waterborne bacteria.
Use a pre-filter to remove any sediment, then use an iodine-based water purifier to eliminate viruses.
Use an ultraviolet purifier, which uses UV light to sterilize the water.
Handling unexpected wildlife
Depending on where you're camping or hiking, you might encounter wildlife. While not all animals are dangerous, some wild animals can be hazardous if you don't know how to deal with them.
Research the area you're headed to or take a formal course like Bear Awareness Training to learn how to handle different bear species.
Mental strength
Mental fortitude is also an essential survival skill. You need to keep your spirits up even after SHTF and stay calm when something unexpected happens.
With your other skills and a positive attitude, you can deal with unexpected obstacles like injuries or bad weather.
Understanding your personal limitations
Your skills are more important than any high-tech gear in your bag, but as a prepper, you also need to understand that you still have limitations.
Be responsible while in a natural environment. Do not leave your trash behind and put out fires before leaving your campsite.
Once you have your survival gear, learn these essential skills and prepare for the worst, you will be well-equipped to face unexpected scenarios in the wild.
Sources include: